lsystem1
Galleria Continua, San Gimignano, 2018
The sound installation is a composition of generative sounds programmed through L-systems functions. The work is a collaboration with Loris Cecchini during the exhibition "Inaffable Garden" in San Gimignano. Galleria Continua, 2018.




---
lsystem2

TAI (Tuscan Art Industry) 2018
link
L-system is a composition created for the purpose of an acousmatic installation.
The score is composed according to a method I called "Nn" (nomen nescio), in which the overlap of Bohr's atomic model structure with that of the Bosendorfer Imperial 290 piano assigns a note to each element of the periodic table.
I performed the sequence of the elements present in the chemical formulas describing the chlorophyll photosynthesis process, recreating the extension on 97 keys of the Bosendorfer piano to the computer. The score obtained was then inserted into a c-sound programming environment that manages pre-sampling, making them evolve according to the formal grammar of the L * system.
On the track obtained and recorded in its evolution up to the limit of buffer overloading a concrete sound sample is accompanied, that is the night recording in the court of via Genova 17 which returned the sounds of the activity of the neighboring factory.
The increasing climax generated by the program rests on this sound bed articulated in 4 variations of the algorithmic process.

installation view TAI 2018, Prato (FI)
making of TAI 2018 pihole photo
"CUBE", pinhole photo 25*35cm, Prato (FI), TAI 2018
wall installation, TAI 2018, Prato (FI)
VINYL, LSYSTEM#2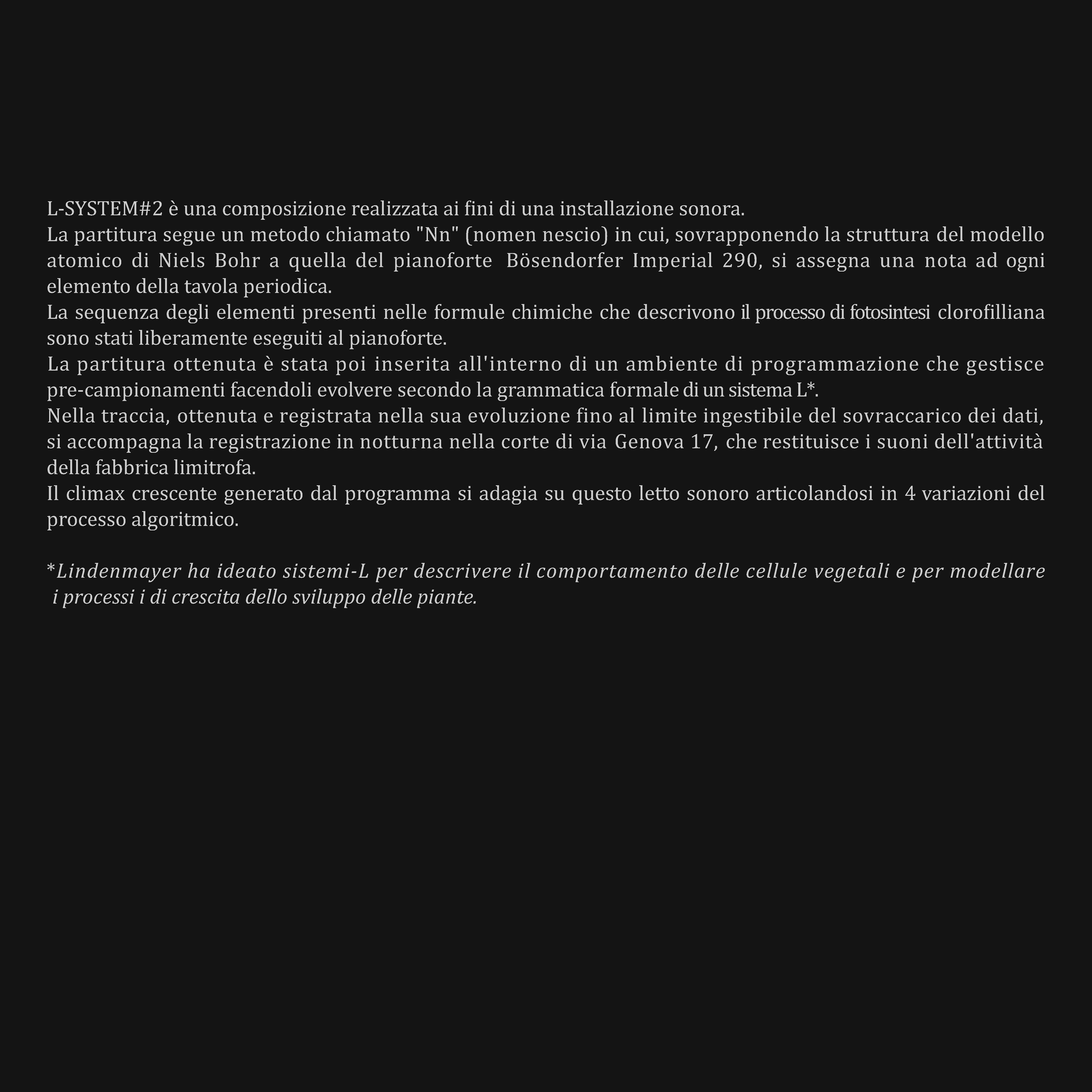 ---
lsystem3
MUPAC Museum of Contemporary Art of Shen ZHen

Lsystem3 is a generative sound composition installed at MUPAC for Biennal of Shenzhen 2019. The composition ispired to algorithms called l-systems observed in nature, is a metaphor of the abnormal growth of Shenzhen.

The sounds used to trigger the generative algorithms are samplings of traditional Chinese music instruments that slowly grow on themselves as they grow according to an L system.
The sound installation dialogues with the installation "Water Bones" of Loris Cecchini, inside a black cube. Directed by Manuela Lietti, Carlo Ratti, Meng Jianmin, Fabio Cavallucci.








installation view Biennale of Shen Zhen 2019, Museum of Contemporary Art, China



soundproject for MUPAC, Biennale of Urbanism 2019

---
"Slicing Mozart"
artistic residence "Etna rêverie" at the "Primaterra" Vineyard, Catania, 2016



"Slicing Mozart" is a computer sound composition about the scientific studies called "Mozart effect". Starting from a recording of "Concerto per Piano n.21" by Mozart, Alessio de Girolamo transforms notes resampling them and weaving a protective blanket of sounds that evoke natural landscapes. Performed during the artistic residence "Etna rêverie" at the "Primaterra" Vineyard.


performance view